Looking for computer desk ideas? You're in the right place!
There are dozens of potential computer desk ideas, ranging from "extremely zany" to "totally functional and designed to make the user more productive." Where you fall will depend on your personality, but here are 9 cool computer desk ideas to consider.
1. Go the minimalist route
Minimalist computer desks can be a good play for some work-from-home types because they reduce distractions and provide an overall sense of calm and effective organization. Have you tried AllSteel desks?
2. Use a Portfolio
Computer desks — well, long before computers — used to have a panel that lowered to become the writing surface, often called a portfolio desk. These went out of style because of the inconvenience of moving all your papers to lift the portfolio up again.
But now it might attract some attention from potential clients as "classic," right?
3. Consider Gunlocke desks
The Gunlocke furniture line is comprehensive and includes conference tables, AV cabinets, credenzas, and even tables. But the desks are traditional and elegant. Many of our clients have viewed them as completely tying together their office.
4. Try the Hon Voi series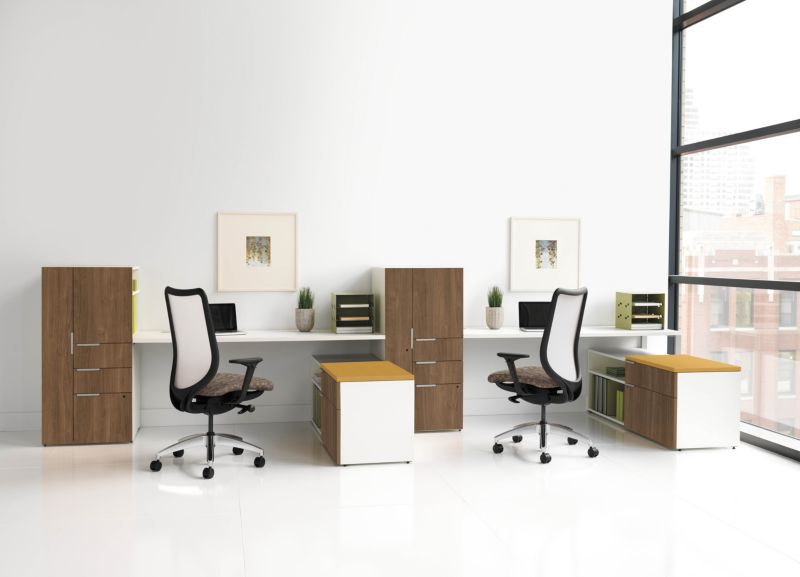 The Hon brand's Voi series combines durable steel with solid and woodgrain laminates to great a desk that's striking, architectural, and very well built.
5. Forget the Computer Desk Ideas and Go "Matrix" Style
That's what happened at the NYC-based offices of digital media powerhouse Gawker, who forego some traditional desks and chairs and offered a large roof deck — once called "straight out of the Matrix" — where employees could work. It's not quite a desk, but lying around wherever works for some, of course.
(We obviously don't sell this kind of desk as, well, it's not a desk. But we also like giving people some cool ideas along the way.)
6. Get office furniture from National
National is a top-flight manufacturer of office furniture. The office desks tend to have durable laminate tops for specific application needs.
7. Get flexible with top shapes
One of the best ways to vary out your computer desk ideas is to get flexible with options for the top, which is why you should consider TablEx.
Need to Know the Tips and Tricks?
Buying office furniture — whether for an established company, a startup, or an individual venture — is tricky. That's where we come in. We try to make sure you get the most bang for your buck on any furniture purchase, using a process we've perfected across hundreds of clients.
Remember: we don't think of it as simply selling office furniture. We create spaces. So whichever of the above computer desk ideas you might be considering (or something else entirely), why don't we help out?